If you are a business owner or a blogger or even planning for your own website then choosing the right web hosting is the most necessary key point for you. Today I am going for a manual review of powerful features and high-quality web hosting powered by Hostarmada. Yes, it's really power full and the best web hosting for WordPress-driven websites. Do not believe my words let's dive into the result that I have found during my manual reviews.
Before diving deep first of all it's important to understand Why is web hosting is important?
Web hosting is an online computer that offers online resources for us, where we keep all our website's individual files and folders for the public. Web hosting's responsibility is to deliver the website's contents to the website visitors at any point in time. so by this, we can assume how important is to operate web hosting 24/7.
Here are a few important features that the best web hosting must have in order to succeed in your website's best ranking in Google SEO.
Guaranteed stability and uptime
Lightning fast website loading Speed
Web Security You can rely on
Technical Support from certified experts
Cloud Technology
Latest PHP Version
For the past few months, I have repeatedly performed speed tests, load tests, and uptime tests to evaluate their performance.
This Hosting Review highlights some of Hostarmada's great hostings features. I will also explore its pricing plan, security features, refund policy, and payment options.
I will deep dive you on Speed and uptime, Security, and Support
Hostarmada review for WordPress – Specific features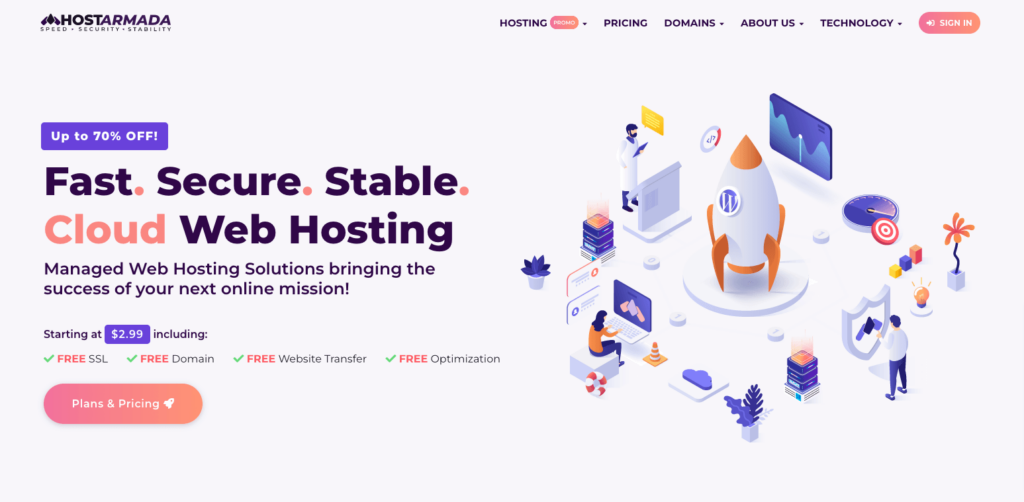 On Internet, you can find so many web hosting companies. The reason we are talking about Hostarmada web hosting is that it offers managed shared hosting plan that is best for you if you are planning for shared web hosting.
Why is Hostamada Web Hosting One of the Best Web Hosting For WordPress Website?
Free Domain
Free SSL
Free Website Migration
Free Web Server Caches
Free Optimization
Free Cpanel access
Unlimited Database
Free Daily Backups
Free Emails
Free imunify 360
Easy Cloudflare Integration
Multiple Datacenter locations
4.9 User Ratings
Let's look at the Pricing Plan offered by Hostarmada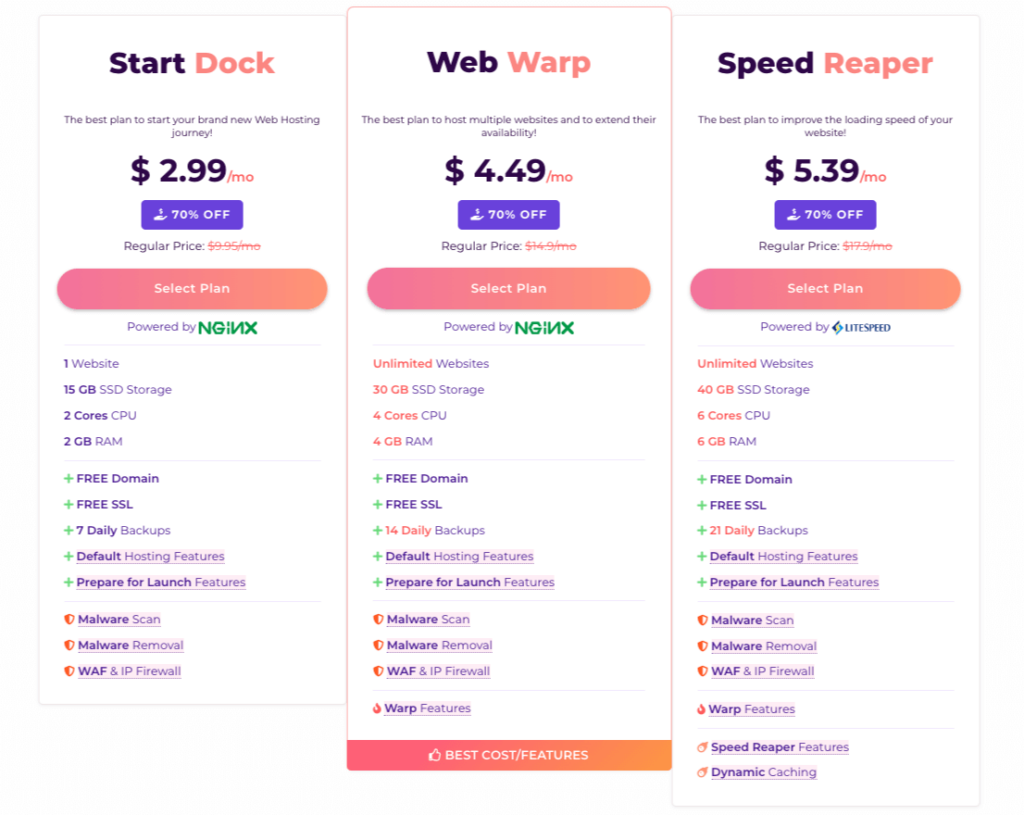 You can choose any of the above plans as per your needs. But what we recommend is at least you can choose Web Wrap pr Speed Reaper Plan. Today we are going to review Speed Reaper as this plan provides Litespeed Web Server technology.
Once you logged into the Hostmada website you will land on the Hostmada dashboard.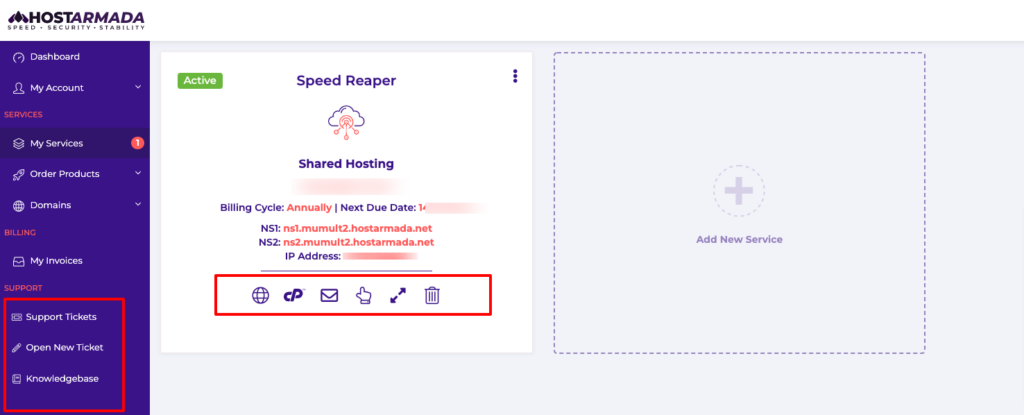 The simple and refined dashboard provides all the necessary information. Among this information, NS1, NS2, and IP Address is necessary information for us. Other cool links we can see here are CPanel links, Emails, website preview links,s, etc.
Now login to your Domain control panel, i.e the place from where you have purchased your domain name.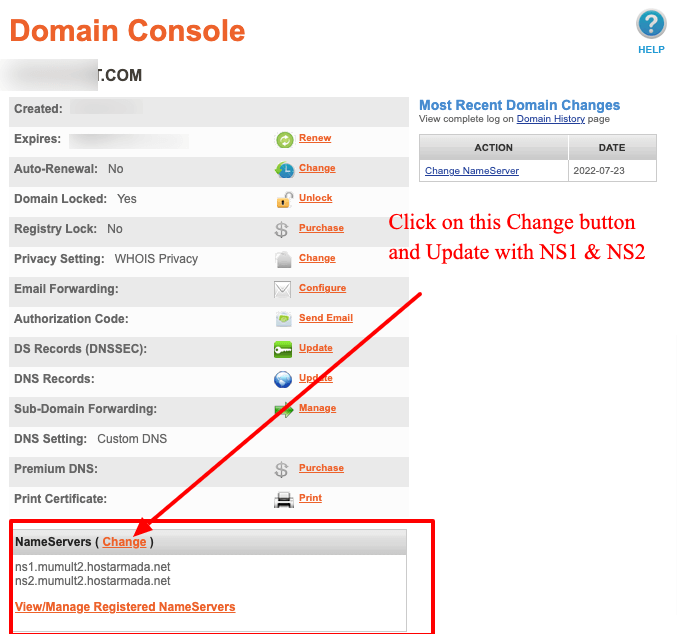 For example, in this review, I have taken my domain from Namesilo. Logged into your Namesilo account and navigate to the Domain console and change your Nameservers. Update your NS1 and NS2 with your domain.
Basically what we have done is connected our domain name with the hosting server. In our case, we have connected our domain name with Hostamada Nameservers.
Now let's dive into Cpanel ( Control Panel ) and believe me setting up your WordPress website from Cpanel is very straightforward. Let's install WordPress using Cpanel step by step. The below screenshot will be the first view of Cpanel.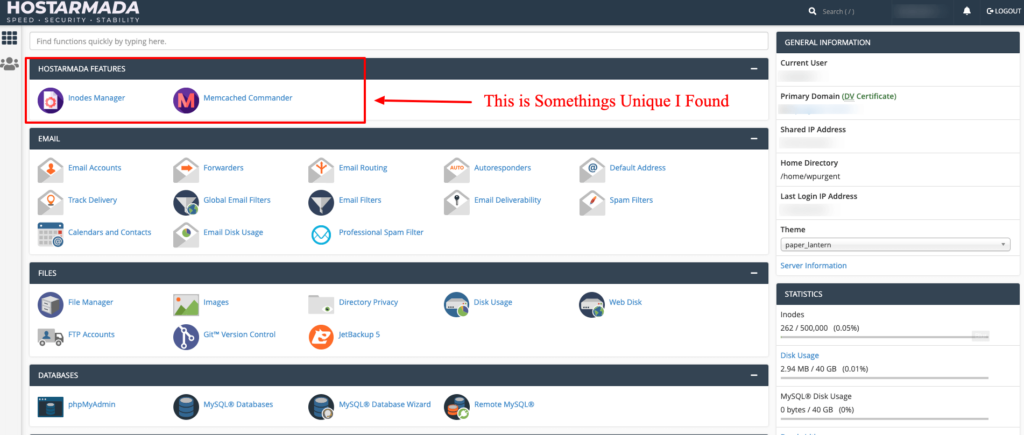 You will see Hostarmada Features sections, this is an extra feature provided by Hostarmada. You can manage your Inodes and also you can configure your Memcached settings from here. These are the rare features that other Webhosting companies provide you to manage yourself.
There are different ways we can set up WordPress, but here we are going to install it in a very simple way by using Softaculous. In the search you can type softaculous as shown in the below screenshot

Now Click Softaculous Apps Installer

Here you can notice different Applications can be installed on our hosting server. But in this review, we are going to install WordPress Application our Webhosting provided by Hostarmada. Click the Instal button.

In this step you can choose your domain name in which you want to install WordPress, can choose your WordPress Version to install then click the Quick Install button. On the same screen, you can notice Admin Account details fill the username, password and Email field carefully. We need this information at the login time.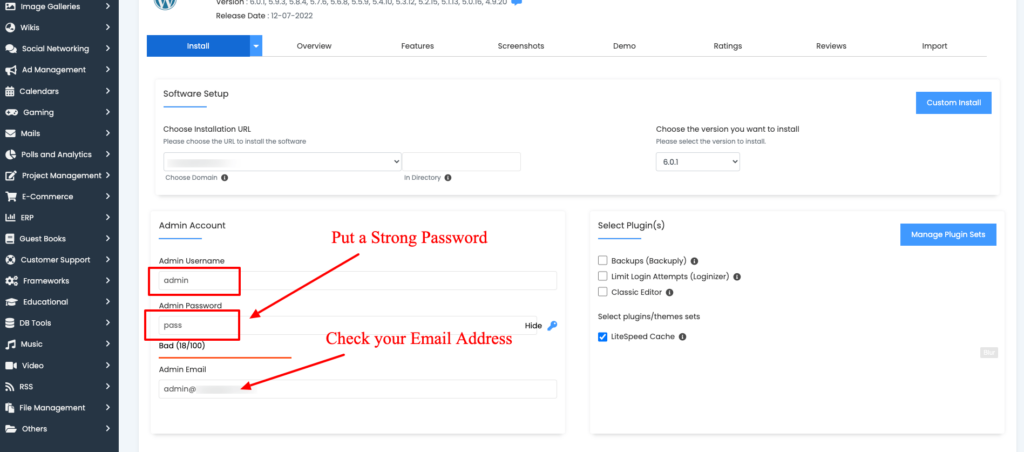 Check your Email Id and chose a strong password. This is your WordPress Admin Dashboard login details. After that scroll down and click Install button.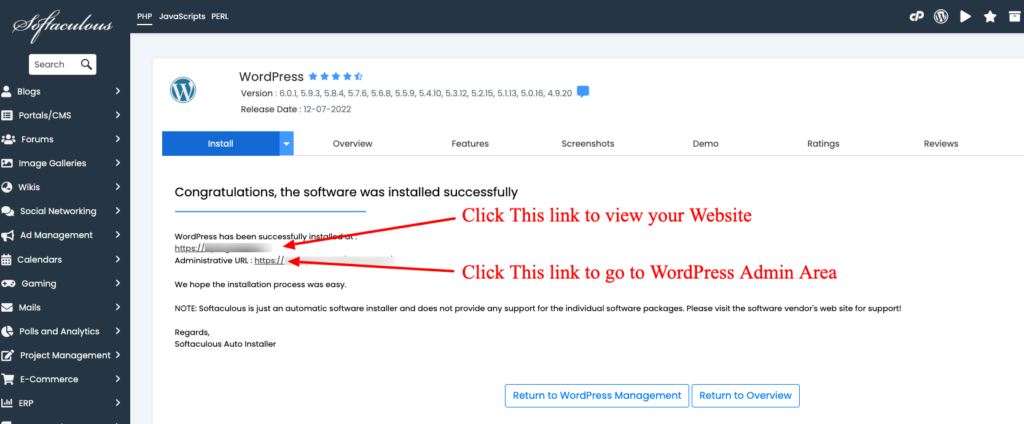 If you are getting the above screenshot then you are on the right track. You have finished WordPress Installation on your domain. You can see two URLs, First URL is your Website URL and this is the public view of your website. The next URL is the link to your WordPress Dashboard where you can edit your website and this is only visible to you. You need a username and password to log in. But from Cpanel, you can log into your WordPress Dashboard without a username and password.
Now let's log into the WordPress Dashboard and let's have a look at the Theme Sections

You have Default WordPress Theme. You can install any themes of your choice and start building your website.
Now navigate to Plugins Area.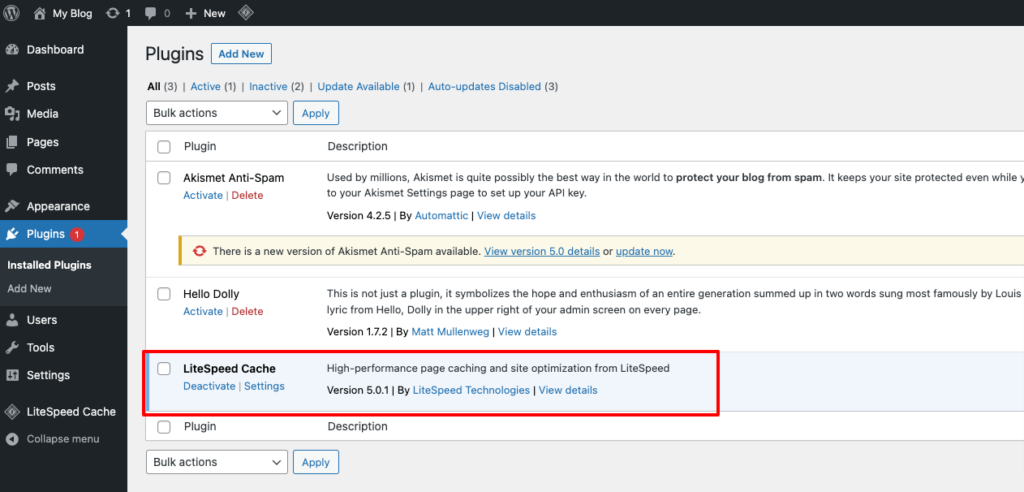 Here again, you can see the Three plugins installed by default. Among these plugins, LiteSpeed Cache is an important recommended plugin if you use Litespeed servers.
Now time to configure the LiteSpeed cache plugin ( Here I will do the basic settings of the LiteSpeed Cache Plugin ). Navigate to the LiteSpeed Cache menu from WordPress Admin Dashboard.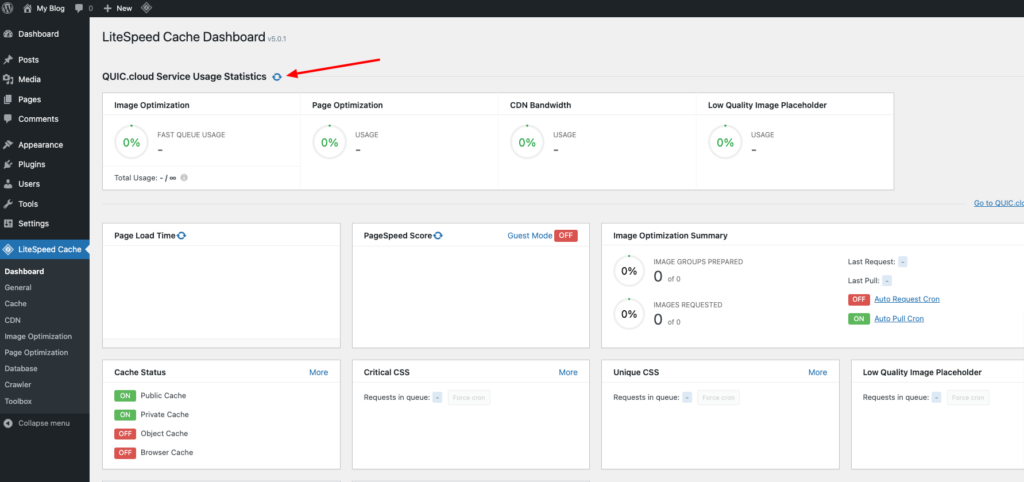 You can see different settings that you can configure to make your website super fast. In this review, I will configure QUIC cloud service only.
Click the refresh icons

Generate your domain key by clicking on the link as shown in the screenshot.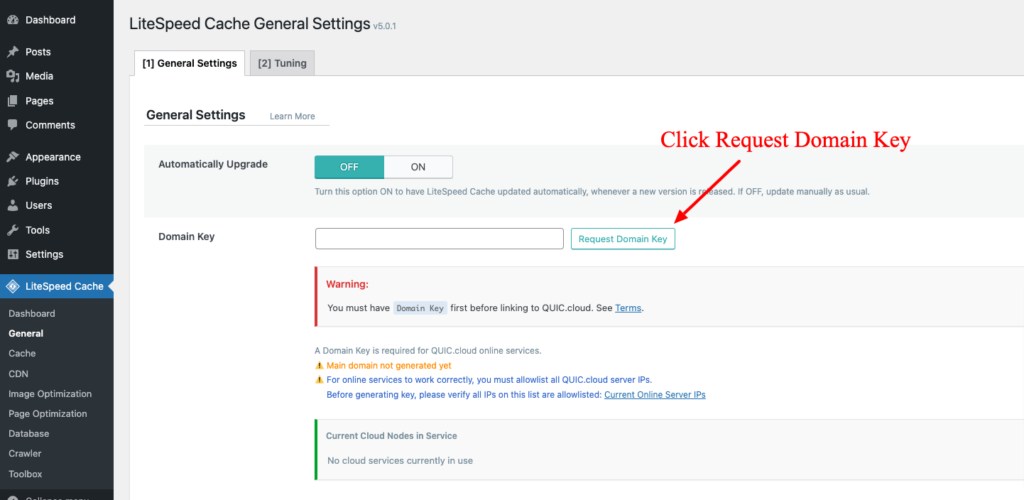 Here in these sections, you can request a domain key by clicking on the button shown in the above screenshot. Now click on the Save button.
After a few minutes, you can refresh this page and you will find the key. That's all. You are all set up and ready.
Page Speed Test with GTmetrix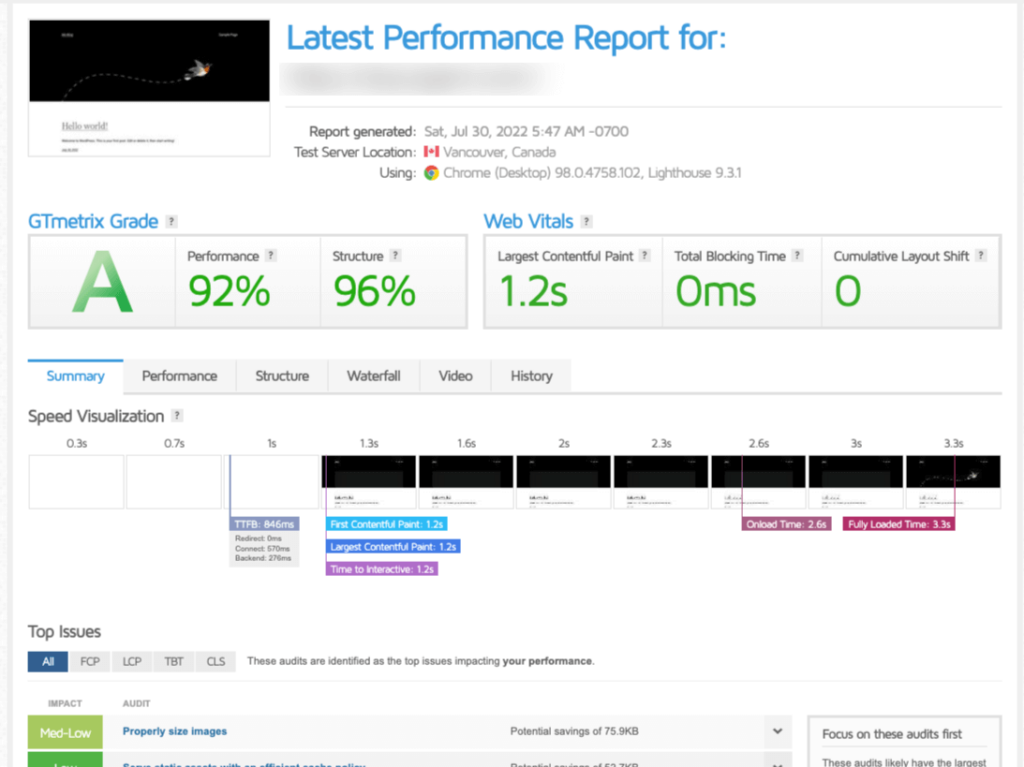 I have performed page speed tests with GTmetrix, and what I saw was an unbeliever. Overall Grade A, performance 92%, Structure 96%, LCP 1.2s, TBT 0ms, CLS 0.
These parameters are enough to say that the Hostarmada server is a powerful full and performance-oriented configure for WordPress Websites.
Test with PageSpeed Insights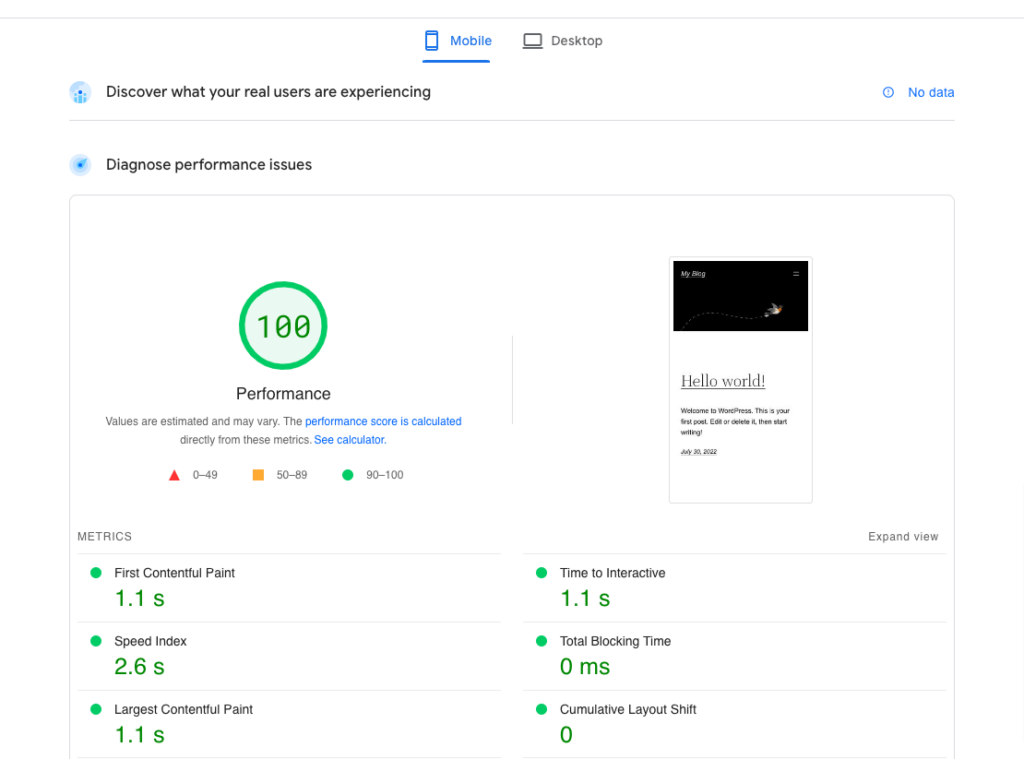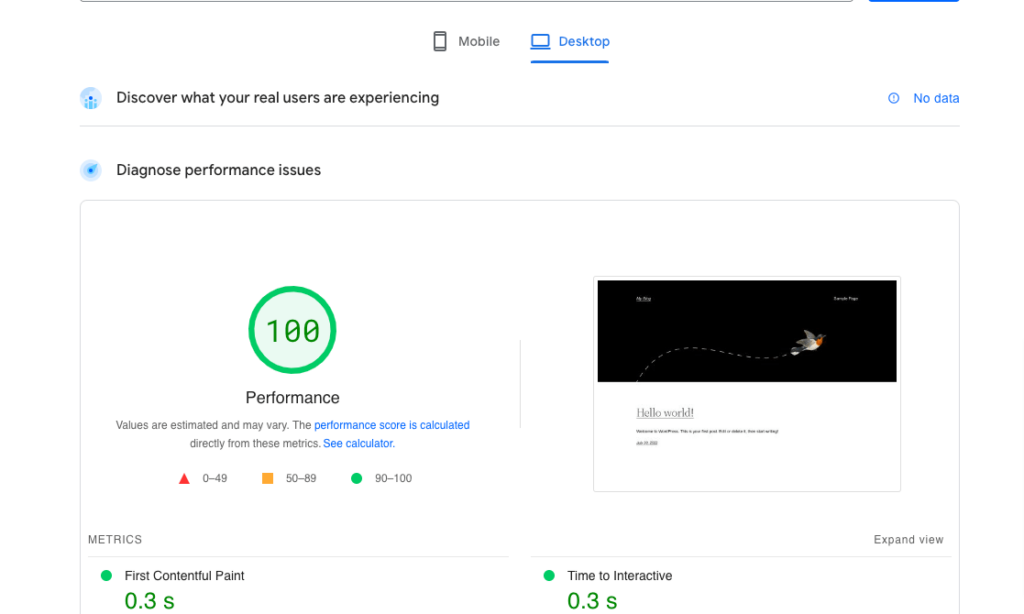 you can see the performance of the server is 100% on both desktop and mobile devices. The server engine provided by Hostarmada is powerful and
hence we can say Hostarmada is the best hosting server for WordPress sites.
Hostarmada Review: Final Thoughts
All in all, Hostarmada is a trustworthy web hosting service that provides all the necessary features required for a website to perform. It offers great shared hostings with high resources and offers you a free domain, free SSL, Free website migration, Free optimization, options for web servers, regular backups, security, and 24/7 support. A wide range of data centers and free cPanel-based email service. In my research rarely we can find these all features in this price range.