If you are a travel business owner and want to create a fully functional travel booking website, you are in the right place.
Imagine you own a travel booking website that looks professional and offers a seamless booking experience for your users. A website that you can create and manage without breaking the bank. Sounds too good to be true, right?
Well, guess what? It's entirely possible! And the best part? It is all in your hands, for free, using WordPress.
Building a website can be a challenging task for new website builders. However, you can build a fully functional, attractive, and customizable website in less than an hour using WordPress and its themes and plugins.
So, in this article, I will be taking you through the process of creating a travel booking website with WordPress for free.
The Power of WordPress for Travel Booking Websites
Ever wondered why WordPress is the go-to platform for many successful travel booking websites?
First off, WordPress is free and open-source. That's right! You can create a stunning website without spending a dime on the platform. But don't let the "free" tag fool you. WordPress is incredibly powerful and versatile, capable of efficiently running complex websites.
Now, here's the exciting part! WordPress boasts thousands of themes and plugins, allowing you to customize your site to your heart's content. Want to add a booking system? There's a plugin for that. Need to integrate a payment gateway? There's a plugin for that too.
And there's more! WordPress is also SEO-friendly, helping your website rank higher in search engine results. It means more visibility for your travel deals and packages and, ultimately, more bookings.
Using WordPress does not require any special technical knowledge. Anyone may create and maintain a website with the help of its simple interface. Plus, with a massive community of users and developers, help is always just a forum post away.
So, whether you're a seasoned developer or a beginner, WordPress has got you covered.
Beneficial Features of a Great Travel Booking Website
A successful travel company is transparent about its brand and its services. Hence, for client satisfaction, you must ensure your website looks aesthetically stunning yet filled with all the essential features, functionality, and sections, including all the information.
So, let's look into some of the essential prerequisites of a great travel booking website.
Trip Search to Quickly Find Trips
A travel website should have a trip search feature that allows travellers to quickly search trips based on their preferred destination, departure dates, budgets, etc.
This feature enhances user experience, leading to increased bookings and customer satisfaction.
SEO-Friendliness for Higher Rank in Google
When searching for a travel website to book your tour packages on google, you will find tons of websites. So, how do you make sure your website is discoverable?
Well, this is no rocket science. All you need is a website that is SEO-optimized. SEO optimization helps in improving your website's search engine rank.
In fact, a SEO-friendly website helps in increasing traffic to further gain more conversion and sales. A WIN-WIN situation for you.
Show Content For a Great First Impression
"The first impression is the last impression."
I stand by this saying. And I believe, as a travel booking company, one of the crucial things to enhance your business is to create a great first impression among your site visitors.
While giving details, you do not want to scare off your clients. Hence, adding just the required information makes sense. You can write about your company's origin, making sure you can connect with your visitors and turn them into potential customers.
Display Travel and Tour Packages for Attracting Customers
A travel booking website should display your best travel and tour packages. You should offer your customers attractive and affordable vacation packages through your website.
It enables your visitors to simply find the services they are looking for. Also, you should highlight your services that are different from your competitors. Discounts and other offers on specific tour packages can help your travel agency attract more customers.
Destinations and Booking Packages for Informed Booking
Your travel booking website should have a destination page recommending all the travel locations so that your visitors find it easier to book their trip with you. Including the names of the destination, Google Maps showing the exact location, nearby accommodation services, etc., are essential things while creating a travel booking website.
Additionally, your travel website should include a dedicated booking page with an option for travel reservations. As a result of this, your customers will efficiently process payments for their bookings.
Easy ePayment Service
Your website should have an online payment procedure for your customers' convenience.
Every time clients book a service with you, they should be able to pay for the package safely without worrying about cash fraud.
Group Discount for Customer Satisfaction
The Group Discount feature is crucial as it encourages larger bookings, thereby increasing sales.
It offers an easy and convenient way to provide discounts to groups, making travel more affordable for customers and more profitable for agencies. This feature enhances the overall user experience and boosts customer satisfaction.
Travel Tips for Smooth Journey
A successful travel booking website should have all the information customers require for their trip. This feature is more crucial for new travellers.
As a travel company, you can raise their confidence and influence their decision by including travel advice on your website, such as what to pack for the tour, when to arrive at the airport, how to keep one's luggage safe while travelling, etc.
Departure Dates for Pre-Scheduling
Departure Date feature is a fundamental component of travel booking websites. It allows travelers to specify the date they intend to start their journey, enabling the system to display available flights, accommodations, or tours for that particular day.
This feature is crucial for planning and scheduling trips, ensuring that the offerings align with the traveler's itinerary. It enhances user experience by providing better results and helps in efficient travel management.
Add Extra Services Ensuring Convenience
The "Extra Services" feature on travel booking websites enhances customer experience. It allows you to sell supplementary services like airport pick-up, hotel drop-off, and other benefits.
This feature increases your average order value and thus increases your revenue.
Social Proof for Maintaining Trustworthiness
Social proof is a powerful feature for showing your trustworthiness. You can include client testimonials for letting users know about your success. Also, you can add photos of your previous clients' trips for showing the works you have done.
How to Create a Free WordPress Travel Booking Website?
Now that you know the features of your travel booking website, you might be a little relieved. And you should be! You are just a few steps away from creating a great travel booking website.
So, let's now go through the step-by-step guide for creating a Travel Booking Website for free with WordPress.
1. Choose Your Perfect Domain Name
Choosing a domain name and hosting is crucial in setting up your website. Your domain name is your online identity, so pick something unique, memorable, and relevant to your travel business.
The following are some key points to remember while choosing a domain name:
The name should be short and appealing.
It should be easy to remember.
It should represent what your brand stands for.
You should avoid hyphens and numbers.
2. Find a Reliable Hosting
Selecting a robust hosting service is critical in creating your free travel booking website with WordPress. A great hosting provider ensures your website is fast, secure, and always accessible to your visitors.
Look for a host that offers WordPress-specific plans, 24/7 customer support, and can deliver high uptime. It will ensure your travel booking site runs smoothly, providing a seamless experience for your users.
Also, there are a few things to consider when choosing a hosting:
You should host your travel booking website with trusted hosting.
You should choose a web hosting based on your location. For example, if you reside in the USA, you should use the hosting with ".us" as a domain extension.
You should choose a hosting with the best support and security services.
3. Install WordPress on Your Travel Website
Once you choose a domain name and hosting, your next task will be installing WordPress. Note that you can install WordPress on the same hosting server that you chose and follow the steps mentioned below:
Step 1: You simply should log in to your account on your hosting server and find WordPress at the App Installer in the server.
This step will lead you to an option called, Install WordPress.
Step 2: After you click on "Install WordPress," you will have to go through the functions, such as "Installation URL," "Site Settings," and "Admin Account" details. You should enter all these information correctly.
Step 3: After completing the information, you will be ready to install WordPress by simply clicking the "Install" button.
Step 4: Once you install WordPress on your travel booking website, you can now go to http://yourwebsitename.com/wp-admin.
Here, you need to input your admin username and password to access your travel website's WordPress admin dashboard.
Step 5: Now, you can go to Settings > Permalink after logging into your WordPress admin panel and change your permalink structure to Post name. To complete the procedure, press the Save Changes option at this point.
3. Install a Travel WordPress Theme
The next step is to choose the best WordPress travel theme for your site. Think of your theme as the digital decor of your website. It's what your visitors will first notice when they land on your site. 
So, it's crucial to pick a theme that's not only visually appealing but also functional and user-friendly.
Now, you might wonder, "How do I choose the best theme?"
Well, look for a theme that's specifically designed for travel booking websites. It should be responsive, SEO-friendly, and compatible with the Travel Engine plugins.
And guess what? There are plenty of free themes available that tick all these boxes! So, go ahead and choose a theme that resonates with your brand and makes your website shine.
Here are some of the best WordPress Travel Themes for your travel booking website: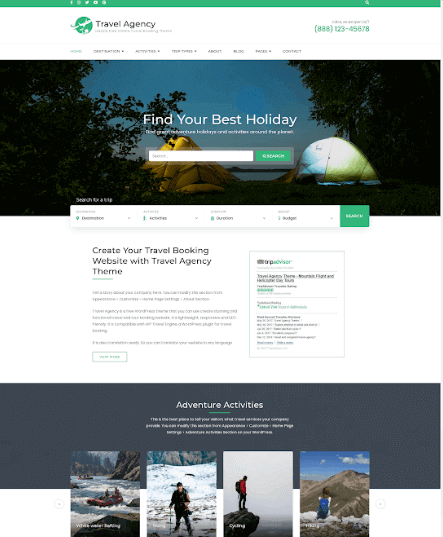 The ideal answer for travel and tour operators, hotel chains, and other organizations looking to create a dynamic, user-friendly travel booking website is Rara Themes' free Travel Agency WordPress theme.
You won't need to write a single line of code because it is simple to use and has many features that make it a top pick.
With the help of the WP Travel Engine plugin, Travel Agency enables you to create one-of-a-kind journeys with detailed itineraries. Since users can directly book the vacation they want, this feature greatly improves their booking experience.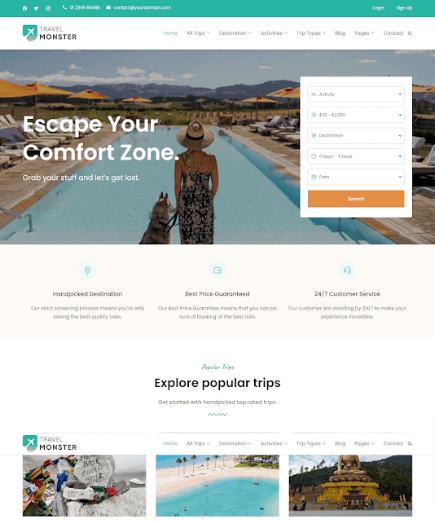 Travel Monster is for anyone working in the travel sector, including hotels, tour companies, and travel blogs.
This theme has various features and functionality to help you build a website that is interesting to look at and highlights multiple travel destinations, deals, and experiences.
The theme is compatible with the WP Travel Engine plugin, a robust and feature-rich tool for organizing and promoting trip packages. You can design and present comprehensive itineraries, cost details, booking forms, and more.
Additionally, Travel Monster is search engine optimized that helps with your website's discoverability and higher rank in search engines. As a result, it benefits in bringing in organic traffic and raising your internet presence, ultimately resulting in more potential clients and reservations.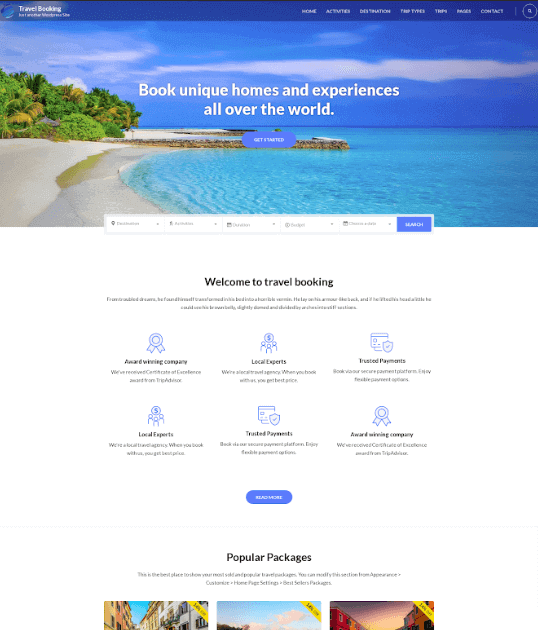 For travel and tour companies, hotel chains, and other businesses wishing to create a travel
booking website, Travel Booking is a fantastic free WordPress theme compatible with the WP Travel Engine plugin.
Tour operators can post travel plans, highlight tourist attractions, highlight hotel specials, and, most importantly, enable booking straight through the website. It's appealing and user-friendly design helps in increasing sales.
This theme is quick, mobile-responsive, schema-friendly, and SEO-optimized, ensuring that your site will improve its rank in search results and deliver an excellent user experience across all platforms.
4. Add WP Travel Engine Plugin
If you are ready to supercharge your website, WordPress plugins are your secret weapon. They're like magical add-ons that boost your website's capabilities, offering features and tweaks that your theme alone can't provide.
You might be thinking, "Which plugins should I use for my travel booking website?" Well, there's a whole universe of essential plugins for travel websites. However, we recommend you use WP Travel Engine. 
This plugin will not only enhance your website's functionality but also offer customization options that will make your site stand out. So, let's dive deeper to know more about this plugin.
WP Travel Engine is your ultimate tool for creating a dynamic and feature-rich travel booking platform. This powerful WordPress plugin is designed specifically for travel and tour operators, offering a host of functionalities that make managing and selling tour packages a breeze.
Here is a quick stats about WP Travel Engine:
Used by 10,000+ travel business owners
More than 100 reviews, average rating of 4.8
Step-by-step video tutorials
Active Facebook community of users
With WP Travel Engine, you can effortlessly add and customize trips, set prices, and create detailed itineraries. But that's not all! It also allows you to categorize trips by location and type, making it easier for your customers to find their perfect getaway.
And guess what? It's not just about selling trips. WP Travel Engine also offers a robust booking system, allowing customers to book their dream vacation directly from your website. Plus, it supports multiple payment gateways, ensuring a smooth and secure transaction process.
But the features continue. WP Travel Engine lets you add custom trip facts, manage bookings, and send booking emails. In short, it's a comprehensive solution that puts you in the driver's seat of your travel booking website. So, trust this plugin and take your travel booking site to a new height
Why is WP Travel Engine the Best Travel Plugin for Your Website?
WP Travel Engine is a comprehensive, user-friendly, and powerful tool that can transform your travel website into a fully functional travel booking platform.
The following benefits make it the best plugin for your travel booking website:
It is designed with user experience in mind. Its intuitive interface makes it easy to manage and sell tour packages.
With WP Travel Engine, you can add and customize trips, set prices, and create detailed itineraries, giving you complete control over your offerings.
The plugin offers a comprehensive booking system, allowing customers to book their dream vacation directly from your website.
WP Travel Engine supports multiple payment options, ensuring a smooth and secure transaction process for your customers.
The plugin allows you to categorize trips by location and type, making it easier for your customers to find their perfect getaway.
WP Travel Engine enables you to send booking emails to your customers, keeping them informed and engaged.
WP Travel Engine provides excellent customer support and regular updates, ensuring your website stays up-to-date and runs smoothly.
WP Travel Engine offers a variety of extensions, such as group discount extensions and payment gateway extensions, that can further enhance the functionality of your travel booking website.
WP Travel Engine Add-ons
The experience with WP Travel Engine can be enhanced with a variety of add-ons, each designed to streamline your operations and boost your sales.
From Group Discount that encourages larger bookings, Extra Services that offer additional amenities like airport pick-up and hotel drop-off, to the "Departure Date" feature that allows precise trip planning, these add-ons are designed to provide your guests with amazing experiences. With less effort on your part, you can sell more and deliver unforgettable travel experiences.
The following are some add-ons of WP Travel Engine Plugin:
Trip Fixed Starting Dates Add-on
This extension is your perfect ally if you want to manage your travel tours more efficiently. It's designed to help travel, and tour businesses showcase fixed departure dates, available seats, prices, and a booking button.
Imagine that you have a trip with specific start dates and a limited number of available bookings. With this extension, you can easily input the date, the number of seats available, and the price.
Bookings can only be made for those specific dates. And here's the best part: Once all the seats are filled, the booking for that date automatically closes and displays a "SOLD OUT" message.
It's a simple, efficient, and effective way to manage your tour bookings. So, are you ready to streamline your booking process with this handy extension?
Group Discount Add-on
If you are worried about boosting your bookings and conversion rate, this extension is just what you need. It's a powerful tool that allows tour and travel companies to offer group discounts. And who doesn't love a good deal, right?
Now, picture this: A trip costs $1000 per person. What if you could offer the same trip at a discounted rate for groups? For instance, two people could go on the trip for $1900 ($950 per person) or three people for $2700 (just $900 per person). And the discounts could keep rolling for larger groups.
It not only makes your trips more appealing but also encourages more bookings.
Extra Services Add-on
It's not just about booking a trip, it's about creating a seamless journey. With this add-on, you can provide more, sell more, and deliver unforgettable travel experiences.
You can elevate your travel booking services with the "Extra Services" add-on for WP Travel Engine. This feature allows you to offer additional services like airport pick-up and hotel drop-off, enhancing your guests' travel experience.
Advance Itinerary Builder Add-on
This feature allows you to create engaging, informative, and interactive itineraries, complete with stunning photos. It's not just about listing a schedule; it's about crafting a story of the journey that awaits.
With this add-on, you can inspire wanderlust in your customers, making your travel offerings irresistible.
Currency Converter Add-on
The "Currency Converter" is an extension for the WP Travel Engine. It allows users to easily convert trip prices between multiple currencies.
Stripe Payment Gateway Add-on
This extension is your answer to making transactions smoother on your website. This tool lets you accept credit card payments directly on your site. And how does it do that? Through your Stripe.com account.
Let's suppose your customers are ready to book their dream vacation. They've chosen their destination and dates, and now it's time to pay. With this extension, they can enter their credit card details and voila! The payment is made on your website, thanks to your Stripe.com account.
5. Integrate Online Bookings and Payments
With the help of robust plugins like WP Travel Engine, you can quickly and easily set up a secure, user-friendly, and streamlined online booking, reservation, and payment system with the help of payment add-ons served by the plugin.
Many handy themes, such as Travel Monster, come pre-installed with several valuable add-ons, but you may always download them separately. However, before purchasing a theme, verify that these standard WordPress plugins are compatible with your theme.
Final Thoughts
And there you have it! You're now equipped with all the information on how to create a travel booking website with WordPress for free.
From selecting your domain and hosting to picking the perfect theme to use the power of WP Travel Engine and its extensions, you're ready to embark on this thrilling journey.
Your travel booking website isn't just a platform; it's a portal to adventures, a launchpad for explorers, and a dream machine for vacationers.
So, are you ready to turn those travel dreams into reality and offer unforgettable journeys to your customers? Dive in and start creating your travel booking website. The world is waiting to be discovered through your platform.
So, buckle up and get ready for this journey of creating your travel booking website. Here's to your success in the thrilling world of travel booking! Happy website building!