One of the most complicated tasks is to choose the best WordPress Hosting at this present time as there are thousands of web hosting services available. You will get the best of the best hosting service providers and picking one can be troublesome, so here I am helping you by providing some of the best options.
[wps_toc style="default" title="Table of Contents" heading_levels="2,3″ show_heirarchy="yes" bullet_spacing="no" ordered_list="no"]
One of the leading web hosting providers. Bluehost is one of the best hosting with WordPress providers, which offers shared hosting, WordPress hosting, VPS hosting, dedicated hosting, cloud hosting, WooCommerce hosting, and many more types of hosting along with domain services.
PHP la7, HTTP/2 power it, and NGINX+ caching. It is one of the largest hosting providers owned by Endurance International Group.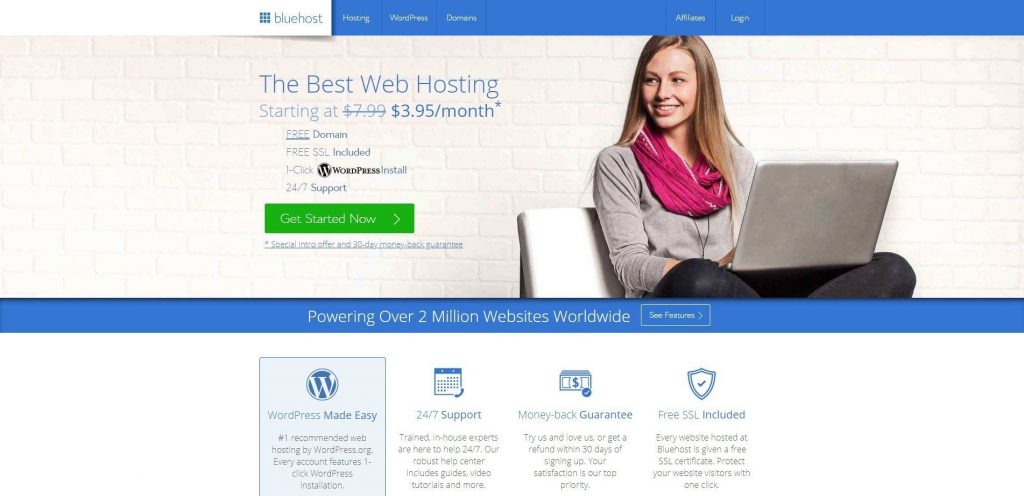 Always get a new way to deliver on their mission, along with comprehensive tools that help us to enhance our site.
Bluehost may not be the most effective web host out there; however, it ranks pretty much and one of the best WordPress hosting services provider, and it has been smart ever since.
Then Bluehost is one of the Best WordPress Web Hosting service providers. It has been in the hosting industry for a long time and providing high quality and reliable hosting services.
Their hosting packages starts only at $2.95/month. One of the best things about Bluehost is that they are no. 1 recommended web host for WordPress hosting by WordPress.
Bluehost is inexpensive and has a 99.99% uptime guarantee.
Features Of Bluehost:
Unlimited Bandwidth
Free SSL Certificate
Regular Backups
Easy to Scale
Very fast server speeds.
100% compatibility
100/100 for support and assistance
Has an imposing and consistent uptime level.
Enhanced cPanel for free of cost
Free Resource Protection
Content Delivery Network for free of cost
24/7 customer support
30 days money-back guarantee
Why do I recommend Bluehost?
Bluehost is one of the best hostings with WordPress providers since 2003, which server their client 24*7.
As explained before, it offers shared hosting, VPS hosting, and many more, but the best part is that it offers to host with WordPress.
The partnership between Bluehost and WordPress helps us to build a website and use hosting with WordPress.
The team of Bluehost is always ready for customer support whenever they have any queries.
Not only that, engineers available for technical support, which takes the features to the next level.
HostGator is another truly best WordPress web hosting provider. It is a reliable Web hosting service that's simple to use and offers an array of useful plans for consumers and small businesses.
HostGator hosts over 8 million domains and is one of the foremost standard web hosts within the trade.
With 1-click WordPress installation, 99.9% uptime guarantee, and 24/7 support, it's a sensible selection for each website owner.
A web hosting that provides a vast array of tools, which make our imagination come true, is HostGator. It is one of the best hostings with WordPress.
We can find everything like site-building tools and templates; a one-click application installer needs to launch a new website.
Features Of HostGator:
Unlimited Bandwidth
Free SSL Certificate
100% Free Migration
Automatic Malware Removal
Enhanced cPanel for free of cost
Start quickly and easily.
One-click installation
Provide drag and drop experience.
Flexible, easy to use control panel
24/7 customer support
30 days money-back guarantee
Why do I recommend HostGator?
One of the world top largest hosting with WordPress providers is HostGator. HostGator hosts more than 10 million domains.
It provides the feature of hosting with WordPress with more different Hosting like Joomla hosting, Drupal Hosting, Magento Hosting, wiki hosting, and many more.
HostGator is a hosting provider company, which provides 24*7 services to their customer.
So that we can solve our problem at any time, it is SSL certified. Also, this factor makes the user attractive to use the Hosting.
Cloudways is one of the leading managed cloud-based hosting platforms that specialize in WordPress & WooCommerce Hosting for freelancers, bloggers, designers, developers, e-commerce stores, and digital agencies.

It wouldn't be wrong to say that they are a bridge between YOU and those top cloud providers. Here are some of the key features that Cloudways offers to its customers:
Features Of Cloudways:
Renowned Cloud Providers
Dedicated Server Resources
Multiple Applications
Unlimited Applications on a Single Server
60+ Global Data-centers
1-click Free SSL Certificate
Optimized Hosting Stack
Multiple Layer Security
Server & Application Cloning
Server & Application Monitoring
Staging Environment
Custom Varnish Rules
SiteGround has an extensive network of over 800,000 domain names in the world. The "Start-Up Plan" is being utilized to observe the period and average load time.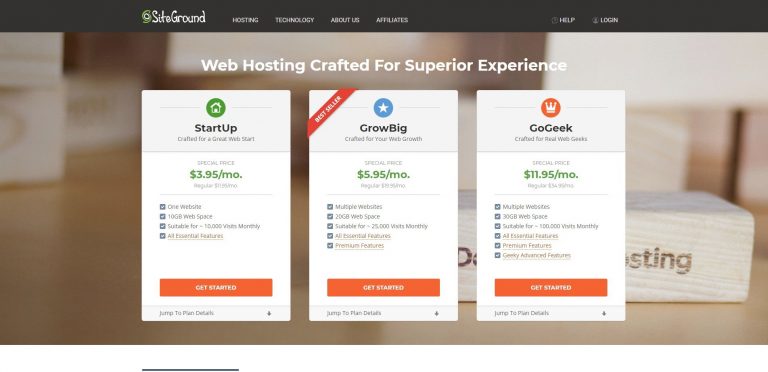 In terms of the period, SiteGround maintained an uptime of 99.98%, followed by a load time of 722ms.
SiteGround offers excellent uptime, customer service, and strong security, though you'll have to search somewhere else for Windows servers or plans with lots of capacity.
Features Of SiteGround:
Had the fastest loading time
1 of 3 WordPress recommended hosts
Awesome support
Monthly payment option
The cheapest option at $3.95/month.
WordPress 1 click install
30-day money-back guarantee
A2 is hosting one of the best WordPress hosting service provider with a blazing fast web hosting solution.
This service provider comes with unlimited SSD space and transfers with free and easy site migration.
When it comes to the time it gives a 99.9% uptime guarantee with 392 ms load time. A2 hosting implements caching, which stores data in a browser, so that they don't have to request information from websites every time whenever someone tries to access it.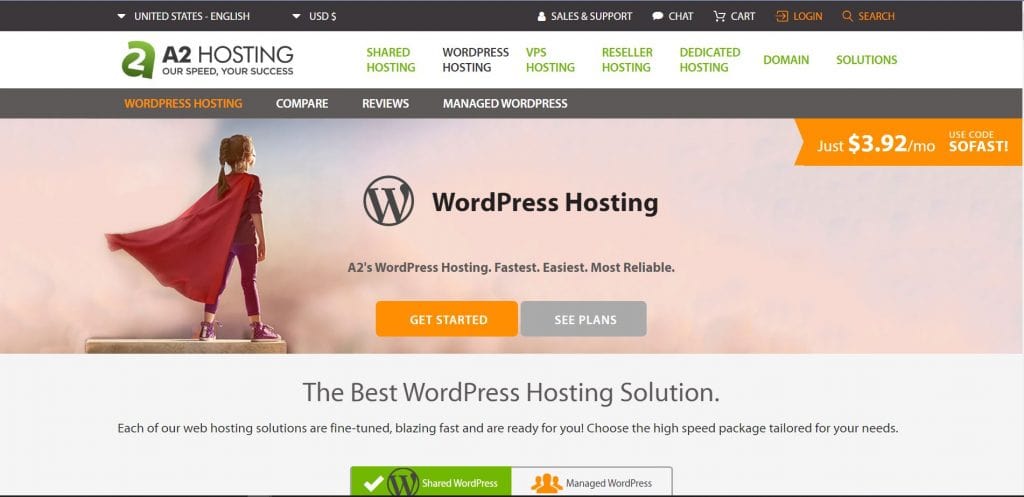 It provides 24/7 support through their live chat, email, and ticketing systems.
A2 Hosting is another fantastic hosting with WordPress option. It is one of the low cost of WordPress hosting. They claim of being 20x faster than another current hosting.
It is one of the fastest shared WordPress hosting providers at 282ms.
However, not as fast as they claim.
And are also highly optimized for WordPress by having SSD storage and Litespeed Cache.
Features Of A2 Hosting:
Unlimited SSD Space and transfer
Free & easy site migration
Speed optimized WordPress
Easy to use control panel
99.9% uptime guarantee
24/7 support
Free SSL certificate
Free automatic backups
Why I recommend A2 Hosting
When we have WordPress installed. Therefore we do not need to install any other software to use the A2 Hosting.
WordPress comes with A2 optimized. And comes with pre-configured for the fastest page load speed and most secure settings.
The friendly experts are 24*7*365 available to serve their customers. They promise that they offer the best Hosting with WordPress for the confirmation they will let us try completely risk-free with an anytime money-back guarantee, which s enough to attract any of us.
Site5 Hosting is founded in 1999 and comes with promises of giving the best web hosting for web designers.
After testing for 12 months, this delivered below-average time of site loading of 704ms and average uptime over a year is 99.98%.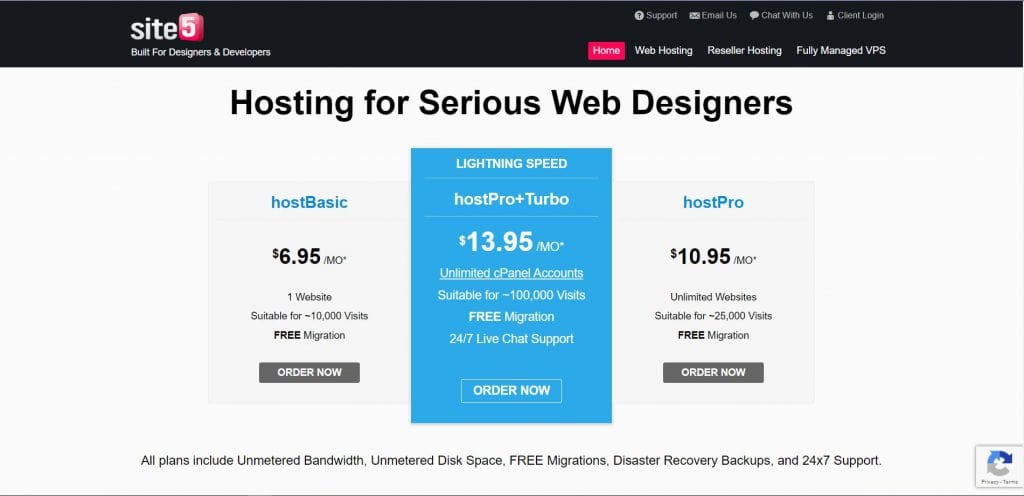 Site5 hosting basic plan offers you in $6.95 per month with 1 website, unlimited space, and free site migrations.
Features of Site5 Hosting:
Unlimited space
Free site migration
24/7 support
99.98% uptime guarantee
Free automatic backups
Unlimited bandwidth
Additional Information to choose WordPress Hosting and Migration Plugin
Sometimes we need to migrate our website from one server to another or from one host to another. But is not an easy task to do because a live website will contain lots of data, files, media, and others and migrating those all from one place to the destination place sometimes goes wrong. It's not always but what if you lose the most important file while migrating that's why I suggest you install the best migration plugin for your WordPress website. With the migration plugin you can migrate from one server to another in a few clicks or if you change the hosting then also no problem. It will also migrate your website from one host to another host in simple steps.
Here are some blogs to explain to you about the migration of website, the best WordPress migration plugin and many more:
Top 15 best WordPress migration plugin
Migrate the Website easily with Everest Backup Plugin
How to clone WordPress website?