If you have a WordPress website of any kind then installing a backup plugin is an essential thing to do. Because you never know anything can happen. Your website, either could get hacked or crashed. So backing up your website means keeping the data safe and protecting your website from sudden incidents. With the help of a backup plugin for WordPress, you can easily restore and fix your website. And, here I am going to show you some of the best free backup plugins for WordPress which you can install and use for your website.
A backup plugin is really important as not having backup plugin risks the loss of content. And thankfully, there are some great popular free backup plugins for WordPress.
Top Best Free Backup Plugins for WordPress
Everest Backup
UpdraftPlus
WP STAGING
Duplicator
BackWPup
Backup Guard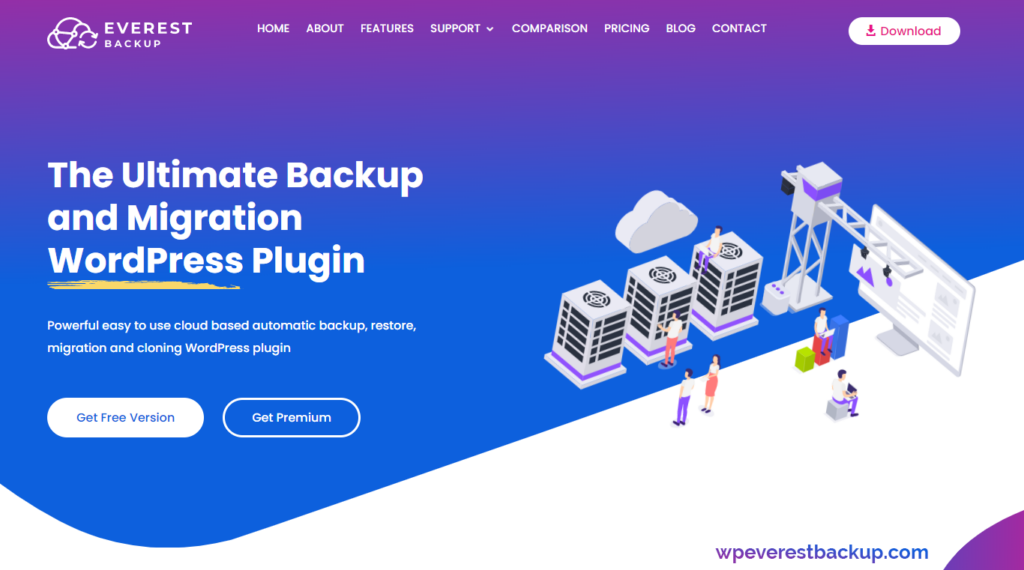 Everest Backup Plugin looks after your website as a mother looks after her child.
Everest Backup is a cutting-edge application that allows you to back up, restore, migrate, and clone your website. It's the quickest and easiest cloud-based storage backup plugin on the market. Connect to Google Drive in a few clicks and set up a backup plan.
Everest Backup offers both manual and automatic scheduled backups, which it pushes to your Google Drive and allows you to restore with a simple click. Everest Backup is more than just a backup and restore tool.
It's also the most efficient method to migrate a WordPress website. To migrate a website, all you have to do is copy and paste. Copy and paste your migration key from the source website onto the destination page. With a single click, you may accomplish your site migration.
One of the unique features is that the logs are human-readable, which means you don't need any technical knowledge to figure out what's going on during your website backup. You'll get an email with information on each backup. 
Free Features:
Automatically backs up your website in Google Drive in just a single click easy to use
Restore directly from the WordPress panel in just a flash of time for easy migration
Simply copy and paste the magic link to another domain and migrate within a minute
Allows you to safely store backups remotely via cloud storage
Besides standard single sites, it supports multisite network backup and migration
Rollback
Schedule Backup and Email notification
File ignore according by file extensions
Backup auto remove

UpdraftPlus is one of the world's highest-ranking and most popular backup plugin for WordPress. With ease, you can back up your files and database backups into the cloud and restore them with a single click.
If anything happens to your website, it would cost you more time to restore it and without good backups, you will lose everything. So to eradicate such cases use UpdraftPlus best free WordPress backup plugin and I can assure you that it will keep your backups safe.
Features of UpdraftPlus best free backup plugin for WordPress:
Easy to use and intuitive
Backup into the cloud directly to Dropbox, Google Drive, Amazon S3, UpdraftVault, Rackspace Cloud, FTP, & others.
Allows you to set up automatic backup schedules
Faster even though it uses up fewer server resources
Trusted by millions of users

WP STAGING is a duplicator, staging, and free backup WordPress plugin that can create an exact copy of your entire website in seconds. It is great for staging, backup, or development purposes.
The plugin creates a clone of your website into a subfolder of your main WordPress installation. It includes an entire copy of your database.
It is a great tool to have when you need a free staging site to test simple updates or try out a plugin.
Just with a simple click of a button, you can quickly create a staging site, without having to fuss with domain configuration or additional WordPress installs. It solves the biggest problem with most staging solutions
Features of WP Staging – Backup Duplicator:
Easy to use
No Software as a Service
Very fast
SEO friendly
clones the whole production site into a subfolder like example.com/staging-site
Extensive logging features
Supports all popular web servers
No server timeouts on huge websites or/and small hosting servers

Duplicator is one of the most influential clearly the best free backup plugin for WordPress that gives the user ability to migrate, copy, move or clone a site from one location to another.
This best free backup WordPress plugin also serves as a backup utility. It not only backs up your data but also duplicates your entire website.
With more than a million active installations this free backup WordPress plugin has been users favourite one.
It allows you to:
pull down a live site to localhost for development
transfer a WordPress site from one host to another
manually backup a WordPress site or parts of a site
duplicate a live site to a staging area or vice versa
bundle up an entire WordPress site for easy reuse or distribution & a lot more.

BackWPup is the other most popular and best free backup plugin for WordPress. It has more than 400,000+ active installations.
You will need PHP 5.3.3 with MySqli, FTP, gz, bz2, ZipArchive and curl for using this best free backup WordPress plugin. Similarly, it also requires PHP 5.2.7 required, WordPress 3.4 or higher version compatible up to WordPress 4.3.1.
The free backup plugin for WordPress, BackWPUp, lets you schedule complete automatic backups of your WordPress installation and you can choose which content that will be stored to your desired service.
The premium version of this best free backup WordPress plugin offers more support. With this backup plugin you can back up your database and export WordPress XML, also is you can check, repair and optimize your WordPress database easily.
Features of BackWPup free backup plugin for WordPress:
WordPress XML Export
Generate a file with installed plugins
Optimize Database
Check and repair Database
File backup
Send logs and backups by email
Multi-site support only as a network admin
Backups in zip, tar, tar.gz format (needs gz, ZipArchive)
Store backup to directory
Store backup to FTP server (needs ftp)
Store backup to Dropbox (needs curl)
Store backup to S3 services (needs curl)

Backup Guard free backup plugin for WordPress helps you to migrate your website in case there is no change in the domain or the Database prefix.
In case of any change in the domain or the DB prefix, then you can use the premium version of Backup Guard.
Backup Guard is the most popular, complete free WordPress backup plugin. It offers the easiest way to restore, migrate and backup WordPress website. With this free backup plugin fro WordPress, you can backup and restore your WordPress files, database or both.
Features of BackWPup WordPress Backup plugin:
Backup WordPress site – backup site as many times as you want
Backup files, database or both
Choose which folders to backup
Choose which database tables to backup
Restore site – restore backups whenever needed
Selective files or database restoration
Download backups – download your backups on your computer
Import backups – upload your backups to restore (no FTP required)
Multisite WordPress Network is supported
Backup cancellation – cancel the backup process
Explore backup or restore log files
Ability to specify custom exclude paths
Ability to exclude database tables
Final Words!
So these are the most popular and the best free backup plugins for WordPress.From the list, you can choose any plugin that suits your site's needs.
To eradicate any loss of data you have an alternative choice i.e. of course backing up your website. Backups keep your website safe. And all the above-mentioned free backup plugins for WordPress have been updated recently and are compatible with the latest version of WordPress.
You may also take a look at our other informative articles:
10 Best Paid Membership Plugins For WordPress